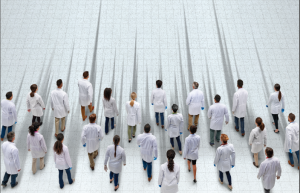 Recently, I was reflecting on my colleague, Dr. John Madden's post "One Plus One Equals More Than Two" that he wrote almost a year ago. He talks about the powerful connection that forms when ion chromatography (IC) is coupled to mass spectrometry (MS). As most of us are aware, achieving a comprehensive understanding of samples can be a challenge. Mass spectrometry can help an ion chromatographer gain greater insights from their samples by providing higher sensitivity and/or chromatographic peak confirmation using the mass-to-charge (m/z) ratio.
In the below example, succinate (m/z 117) and malate (m/z 133) peaks are co-eluting in an animal feed sample. These peaks are resolved in single ion monitoring (SIM) mode using the Thermo Scientific™ ISQ™ EC single quadrupole mass spectrometer.
At HPLC 2017 in Prague, this week, Thermo Fisher Scientific launched the new ISQ EC single quadrupole mass spectrometer which seamlessly integrates with IC and Liquid Chromatography (LC) systems and enables analysis of both simple and complex matrices. Designed with novice MS users in mind, the instrument interface has two modes: In "Easy Mode," users can focus their analysis on basic chemical parameters, while in "Advanced Mode," they can enhance the quality of results with customizable parameters.
Like what you are learning?
Sign up to stay connected with all Thermo Scientific resources, applications, blog posts and promotions.
Keep Me Informed!
Additionally, ion chromatographers can gain more time for data analysis with Chromeleon™ 7.2 Chromatography Data System (CDS) Software, embedded directly in to the  the new ISQ EC. Why is this important? The first step to better understanding a sample is to easily analyze and report IC-MS data on a single software platform with minimal new MS user training.
To learn more about the benefits of using mass spectrometry and the new ISQ EC, I would recommend visiting www.thermofisher.com/ISQEC.